Lent and the Art of Driving Without Calling
I was at a dinner party this past Saturday when the topic of Lent came up. For Catholics like me and other Christians, Lent is typically the time to give up something that is important to your lifestyle as a reminder of Jesus' sacrifice. Most Catholics I know give up something like candy or chocolate or soda. Or, if you're the Pope, you give up being the Pope. Zing!
Way back during my freshman year of college, it struck me that giving up sweets did nothing for me. I love sweets, so it was a sacrifice, but it just seemed like a symbolic sacrifice instead of something that would make me a better person. So I decided to add something good to my life instead, with the intention of getting in the habit of that good thing during Lent and continuing afterwards. I took up flossing, and I've stuck with it ever since.
So when the topic came up at the recent dinner party (if you're picturing a swanky Eyes Wide Shut-style party with foreign appetizers and Budweiser Black Label, you'd be correct), I smugly sat back in my chair as I prepared to impress the crowd with my Lenten methods.
"Sure, you can temporarily give up sweets like any commoner," I said, dismissing the idea with a wave of my hand. "But I prefer to use Lent to make a permanent, healthy change in my life."
I paused for dramatic effect while my friends, hanging onto every word, lifted their sex-party masques onto their brows to make room for the spaghetti they were eating (fine, there were no sex masques. I'm not even sure that's the right spelling for that type of masque. It was a casual dinner party with spaghetti and meatballs. If you know what I mean, wink wink….).
"For the last two Lents, I've tried to permanently give up something unhealthy, and I haven't quite succeeded. So I'm trying again this year."
I paused again for dramatic effect, preparing myself for the raucous applause and "huzzahs" that would follow my insight. I then paused mid-pause for even more dramatic effect before continuing the original pause.
"I'm giving up looking at my phone while I'm driving. Not just texting, but anything the requires me to look at my phone screen while I'm driving," I said, flashing a toothy grin at a female friend at the table, then another at her husband. They know what's up.
"Wait, you usually look at your phone while you drive?" she said. "That's really dangerous."
Tough crowd. "No, like, when I answer the phone," I said. "I have to look at the screen to see who's calling or if I want to answer."
"You talk on the phone while you're driving," another friend said.
"Yeah, of course. It's called multitasking. Don't you?"
This is the moment we've all experienced when you think you've shown up at a sex masque party and it's actually just a spaghetti and meatballs dinner party. We've all been there.
"No! That's really dangerous!"
Everyone at the table agreed.
I looked around at them, incredulous. "You mean none of you talk on the phone while you drive? When else do you call your grandma?"
One of the guys said, "Okay, I'll admit that I have, on occasion, driven while on the phone. But hardly ever."
"Statistically it's just as dangerous as driving while texting," another friend said. Who were these people?! With their facts and figures and safe driving. Please.
Just to make sure I understood them correctly, I asked them again if they talked on the phone while they drive. Unanimously they said no.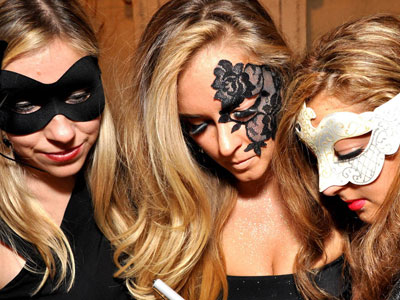 Now, I'm sure not everyone is like my friends. I'm sure there are plenty of people like me who talk on the phone while they drive. But I don't know those people. I know my friends, and while talking to them, I realized that I do something on a regular basis that is not only dangerous to me, but also to the people around me. And I'm not talking about showing up at a sex masque party without a leather loincloth.
So I declared on the spot that I would not only give up looking at my phone screen and texting while driving (just for the record, I very rarely text and drive, and I contend that it's way more dangerous than these other activities), but also talking on the phone while driving. Period. Even for grandma. Grandma calls can wait until I get home.
What do you think about this Lenten declaration. Are you giving up anything for Lent, or, if you don't celebrate Lent, what was the last thing you intentionally tried to add or subtract from your life to become a healthier person?